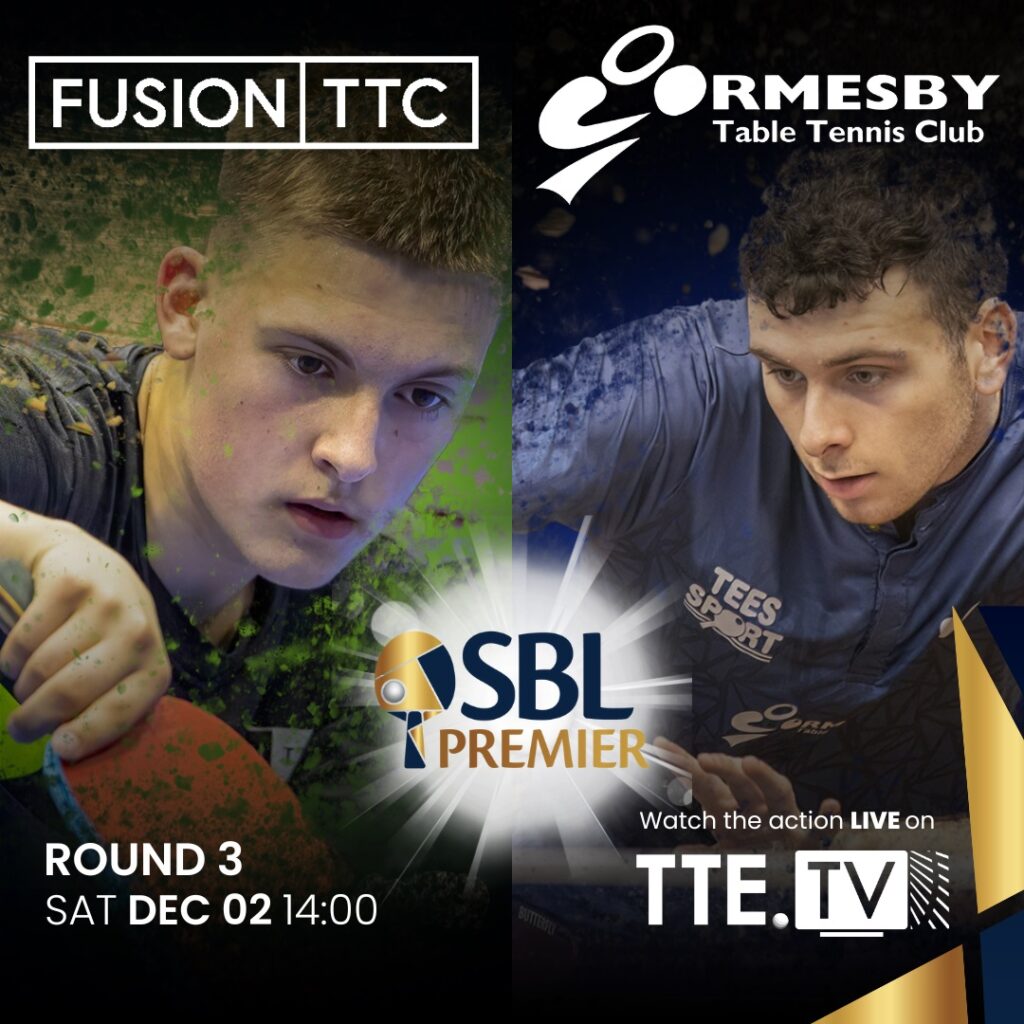 British League Premier Match
Fusion v Ormesbey
2pm
Saturday 2nd December 2023
Get ready for an electrifying clash as Fusion Table Tennis Centre gears up to face the league leaders, Ormesby Table Tennis Club from Middleborough, in what promises to be a showdown of epic proportions. The Fusion Table Tennis Centre will be buzzing with excitement as fans gather to witness a spectacle of skill, strategy, and pure adrenaline.
Rising Stars in Fusion Team
The Fusion Table Tennis Club boasts some of the brightest young talents in the sport. Leading the charge for Fusion is none other than Shaquille Webb-Dixon, currently ranked 17th in England, will be showcasing his incredible skills on the table, promising an exhilarating performance. The English Junior International, Larry Trumpauskas, is set to make his mark in his second home match of the season, bringing his raw talent and passion for the game to the forefront.
Joining the ranks is Robert Pelc, a student at Nottingham University, whose dedication to the sport and academic pursuits epitomises the Fusion spirit. Together, this dynamic team is poised to deliver a table tennis experience like never before.
Star-Studded Ormesby Lineup
Ormesby have the Spanish international sensation, Enio Mendez. Known for his lightning- fast reflexes and unmatched finesse, Mendez is set to dazzle the audience with his mesmerising strokes. He'll be joined by the seasoned ex-pro player, Sam Maybe, whose wealth of experience brings a strategic edge to the Ormesby team. The formidable duo will be supported by the ever-reliable Graeme Barella, adding a touch of veteran wisdom to the lineup.
Morning Warm-up Event – 10am
Gear up for an action-packed morning at the Fusion Table Tennis Centre as the Fusion Junior team faces off in a return match against Sparta Table Tennis Club from Bromley. With a score to settle after a summer defeat, Fusion is eager to reverse the tables in a showdown that kicks off at 10 am.
Fusion Junior Seeks Redemption
The morning promises intense rallies and thrilling exchanges as Fusion Junior aims to redeem themselves against Sparta Table Tennis Club. The Fusion youngsters are determined to showcase their growth, skill, and determination on the table, setting the stage for an exciting encounter.
Joseph Bell Brings Nottingham Players for a Morning Showdown
Adding to the morning buzz, at 10 am, Joseph Bell will lead a group of players from Nottingham in a friendly competition against Fusion Club members. This pre-main event clash is set to be a fun-filled affair, fostering camaraderie and sportsmanship among players.
Join the Morning Fun Before the Main Event
The Fusion Table Tennis Club invites you to be part of the morning excitement, starting at 10 am. Witness Fusion Junior's quest for redemption against Sparta and enjoy the friendly matches between Nottingham players and Fusion Club members. It's a perfect warm-up before the main event kicks off at 2 pm.
Morning Schedule:
10:00 AM: Fusion Junior vs. Sparta Table Tennis Club
10:00 AM: Friendly matches between Nottingham players and Fusion Club members
Witness the Fusion: Where Passion Meets Precision
Fusion Table Tennis Cub is not just a team; it's a community of individuals united by their love for the game. The Fusion Centre is more than a battleground; it's a stage where passion meets precision, and dreams are realised one rally at a time.
Make sure to grab your spot for this unmissable event. Whether you're a seasoned table tennis enthusiast or a newcomer to the sport, Fusion promises an unforgettable afternoon filled with intensity, camaraderie, and the thrill of competition.
Date, Time, and Venue:
Date: 2nd December 2023
Time: 2:00 PM
Venue: Fusion Table Tennis Centre, Unit 2 Stockholm Road London SE16 3LP
Don't miss out on the action – be part of the Fusion frenzy as they take on the league leaders, Ormesby Table Tennis Club. Get ready for an afternoon of skill, strategy, and heart-pounding excitement. Fusion Table Tennis Centre invites you to witness the fusion of talent, teamwork, and triumph. See you at the table!
Morning Schedule:
10:00 AM: Fusion Junior vs. Sparta Table Tennis Club
10:00 AM: Friendly matches between Nottingham players and Fusion Club members
Afternoon Schedule: British League Premier Match
14:00 PM: Fusion TTC v Ormesby TTC –
17:00 PM: Fusion Club Open Practice (5PM to (PM)