About Fusion Table Tennis Club
We have become one of the largest table tennis clubs in London and the South East. Fusion TTC is run by an executive committee, supported by a group of dedicated volunteers. We work together to ensure the best facilities are available for anyone who wants to come and play at a club we all feel passionate about.
Table Tennis or 'Ping Pong' as it is widely known by the public has seen a revival in the last few years and is now regarded as the trendy sport to play. We want to take advantage of this popularity to attract new and especially young players.
Our main aim is aligned with the London 2012 Olympic legacy of 'encouraging participation of sport in schools and the wider community which will contribute to continuing elite success'. We have taken steps to achieve this by bringing in a new Head Coach, an ex-Dutch national coach, and have already implemented a new coaching programme which we also hope to roll out to local schools this year. A future Olympic star could be on our doorstep!
Table Tennis in England is moving into a modern era and so are we! Our aim is to be the best club, with state-of-the-art facilities, whose fresh approach and modern ideas are responsible for producing the best players in the country. We want to leave our own legacy of 'continuing to provide a community club that is open and welcome to all, regardless of age, ability or background and promotes health and well-being for many years to come'.
In 1989, two small local Dulwich League clubs, Dulwich Grove and Paragan, started offering table tennis coaching sessions at James Allen's Girls School (JAGS), in North Dulwich. Coaching started on a balcony on two tables with one or two youngsters. After a few months it was agreed that table tennis could move into the main sports hall and hold sessions on two nights a week. Players from both clubs started to attend as well as players from other local clubs. Word spread about the good standard of players and playing conditions and the popularity and reputation of the club grew.
In 2004, the club moved to Harris Girls Academy in Peckham Rye. It was a newly built sports hall with the potential to run more sessions and use more tables. It was at this time the club decided to change its name to Fusion Table Tennis Club, as its known today. It was decided that Fusion accurately described the club as a community club that welcomed players from all walks of life, cultures, ages and abilities and wanted to ensure that everyone felt welcome. It was the first time in the clubs history that it really decided to think more about junior development and started a junior coaching programme to encourage youngsters to come and try table tennis. Some of those youngsters still play competitively in the British League for Fusion today.
In 2009, the club moved venues again to a school sports hall in Knights Academy at Grove Park. The hall could accommodate sixteen tables and allowed the club to run four sessions a week. The number of juniors increased and the club grew quickly to a point where some sessions were at full capacity. Fusion attracted juniors from other local clubs who benefitted from the coaching programme and practicing with a wide variety of players many of a high standard. There were many success stories including players representing England and Fusion Table Tennis Club winning the Premier Division of the British league and becoming National Champions. By this time the club had three Senior British League Teams, Ladies, Junior, Cadets and Veterans Teams. The only way to continue to grow and develop was to move to a venue where we could determine our own hours, and play 24/7 if we have the demand. We do!
As part of the Surrey Canal development we were offered an opportunity to move into our own venue and in April 2014, we moved into our new premises in South Bermondsey. The venue is a large warehouse which we share with Lewisham Thunder Basketball Club. Each club has their own permanent playing areas and we share communal facilities such as a lounge, offices and a meeting room and has recently been refurbished with new toilets, showers, changing rooms, a kitchen and disabled facilities. The new venue has enabled us to offer a more extensive coaching programme to young people from the community, extra practice sessions to players of all levels, to host events and run coaching camps. We hope to become the premier club in London. Our aim is simple, to make table tennis accessible to everyone who wants to play this great sport without any type of barrier.
Fusion Coaching Team
Meet Our Coaches
A few individuals at the club started the initial coaching at JAGS and are still two of the key people at Fusion today. They have been joined by an array of people over time, who have also dedicated a great deal of time into the club and particularly junior development. Many of the current players have been playing at the club for over twenty years and they are the clubs foundation. We are one big family who support, nurture and encourage each other in table tennis and in life. We hope to continue our journey as a table tennis club, a community resource and a family.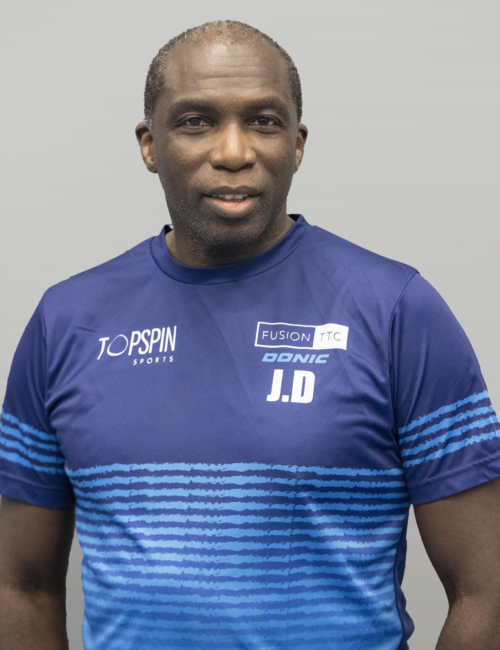 John Dennison
Head Coach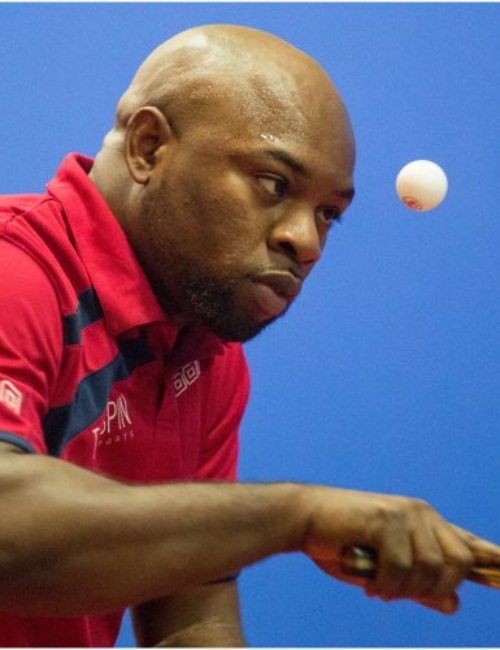 Kazeem
Coach